OneWorld Progressive Institute, Inc is a 501(C)3, 100 percent volunteer organization serving Greater New Haven and the broader CT community since 1996. Please visit our YouTube channel to see examples of our work: https://goo.gl/q3YhD6   Civic Engagement, Education and Health Literacy are our main areas of focus.  Visitors can learn much more about OneWorld's investment in each area by visiting the following links:   See our Civic Engagement programs and forums at:
As America examines another month of Black History, and the end of the second term of President Barack Obama's, America's first black president,  term in office we must hold up the mirror of national self reflection.  The few links below are intended to encourage visitors to do their own research.  In this blog we will focus more on the challenges we still face and the danger of going backwards.  Black Americans have made significant accomplishments under extremely difficult circumstances. There have also been egregious and unnecessary suffering due to racism.
1)  Under the most difficult of circumstances, President Obama accomplished a great deal.  a) For the first time in our nation's history, millions of poor and moderate income Americans have access to affordable health care.  b) Young people up to age 26 can stay on their parents' health insurance. c) And those with pre-existing health conditions can get health insurance coverage. There are a host of other phenomenal things that have been made possible by President Barack Obama; this is despite being blocked every step of the way by Republicans.  Barack Obama was tireless in his efforts. See this link:
President Obama's Top 50 Accomplishments according to the Washington Monthly can be seen here. Of course, there are many other sources with more information.
2)  Margot Lee Shetterly has written a book: Hidden Figures that unearthed valuable information about black men and women who have contributed significantly to America's space program.
3) A focus on women "Top 25 trailblazers who define the modern black woman. There are thousands more." http://thegrio.com/2009/10/21/top-25-black-women-influenced-the-modern-female/#
4)  Famous Firsts by African Americans: http://www.infoplease.com/spot/bhmfirsts.html
5)  A wonderful accomplishment – The first Museum of African American History opened in Sept 2016. President Obama officiated.
Given what has happened in America with the election of Donald Trump, and what has been revealed in the past few months about the behind the scenes diabolical conduct of the Republican leadership in government, America has taken some giant steps backwards.  Yes, we have made progress since the prominent days of Jim Crow, but weren't we supposed to make progress? Should we expect that black bodies would still be swinging from trees like "Strange Fruits?" Why in 21st century America are the bodies of black men being dragged by trucks– driven by white men– through the streets of Texas, then those white men walk free? The trucks now replace the trees.  Police officers are still executing blacks without any concern for justice.

In this the 21st century lynching has taken on various forms.  In 1998 James Byrd, Jr. was lynched when he was tied to a truck and his body dragged through the streets of Jasper, Texas for three miles.  James Byrd Jr. (May 2, 1949 – June 7, 1998) was an African-American who was murdered by three men, of whom at least two were white supremacists, in Jasper, Texas, on June 7, 1998. Shawn Berry, Lawrence Russell Brewer, and John King dragged Byrd for three miles behind a pick-up truck along an … Byrd's lynching-by-dragging gave impetus to passage of a Texas hate crimes law.  That was not signed into law until 2009 by President Obama. https://en.wikipedia.org/wiki/Murder_of_James_Byrd_Jr.

Because until 2011 no one was held accountable for James Byrd's death, in 2008 another black man was murdered in a similar fashion, also in Texas.
Brandon McClelland, 24, was dragged to death beneath a truck driven by two white men in Paris, Texas last month. McClelland was black. The site of his death is about 200 miles from the location where
James Byrd
was murdered in a similar manner ten years ago.
(Image at left: Jacqueline McClelland, Brandon's mother; photo courtesy Jesse Muhammad.)
McClelland's murder took place on September 16, 2008. Parts of his mangled body were found strewn along the highway at great distance.  First responders treated the case as a hit and run. The county district attorney's office denied the possibility of racist motivations, and said comparisons to the Byrd lynching were "preposterous."  Imagine what would have been the media and political response if Brandon McClelland had been a white man?!!!
The incident was reported in the local newspaper, which later followed with this editorial. The editorial has since been removed.
Some bloggers and news sites associated with the Nation of Islam [ * ] have been discussing the killing as a hate crime for weeks, and claim local law enforcement ignored key forensic evidence at the crime scene.  http://www.chicagotribune.com/news/nationworld/chi-081212-paris-witt-story.html
In 2009, the two white men who dragged lynched McClellan were freed and the charges dropped.  Why?  Finley and Charles Crostley, who are white, were freed Thursday after a prosecutor dropped the murder charges against them, citing a lack of evidence.  http://www.cbsnews.com/news/charges-dropped-in-texas-dragging-death/
Charges Dropped In Texas Dragging Death
"They had been charged with fatally striking 24-year-old Brandon McClelland with a pickup truck in September following a late-night beer run the three men made to Oklahoma. His mangled body, which authorities estimate was dragged beneath a vehicle for at least 70 feet, was found on a country road outside Paris, about 90 miles northeast of Dallas." Most Black lives have far less value in America thank white lives.  This is why the movement called "Black Lives Matter" is important and necessary in 2017!
Paris (Texas), which is about 73 percent white and 22 percent black, has recently been the scene of other incidents in which race was alleged to have been a factor.
"In 2007, a black girl was sentenced to up to seven years in a juvenile prison for shoving a teacher's aide at school, while a white girl was sentenced by the same judge to probation for burning down her parents' house. This year, two black workers at a pipe fabrication facility in Paris alleged widespread racism and said supervisors failed to respond to complaints about racist graffiti, nooses and slurs."
The behaviors described above by members of the public and the Judiciary represent a significant part of America in the 21st century. It is getting worst.  Jeff Sessions was just confirmed as Attorney General of the United States.   Here is one paragraph of what Coretta Scott King had to say about Sessions in 1986:  "Anyone who has used the power of his office as United States Attorney to intimidate and chill the free exercise of the ballot by citizens should not be elevated to our courts," King wrote in the cover page of her nine-page letter opposing Sessions's nomination, which failed. "Mr. Sessions has used the awesome powers of his office in a shabby attempt to intimidate and frighten elderly black voters. For this reprehensible conduct, he should not be rewarded with a federal judgeship."  Now he has a greater role. Read the full letter Coretta Scott King wrote opposing Sessions's 1986 … https://www.washingtonpost.com/news/powerpost/wp/2017/01/10/read-the-letter-coretta-scott-king-wrote-opposing-sessionss-1986-federal-nomination/?utm_term=.0b55330e8f04
Aren't human beings supposed to learn, grow and develop into our better selves?  Why is it that many white and some black Americans want to focus only on the progress as if it has been extraordinary?  It's understandable that many blacks want only to focus on the positive; it is too painful and fearful to remember and be aware that one can still be shot dead for no other reason than because one has black skin.   It is less stressful to function on a daily basis if one does not focus on such negatives.  But if we keep basking in the advances only, how will we see the ugliness of racism and racial discrimination that still plague our country?  Given Donald Trump's racial history going back to 1973, and the statements he made on the campaign trail, how could he have been elected president after Barack Obama?  Is it not because of the racist views he has expressed why he was palatable to so many?  They wanted to wipe out as much of Obama's accomplishments as is possible; they don't want to remember that he was in the White House.  To do that America wanted someone who had nothing to lose.  Someone who does not have the political investment as the career politicians do. Donald Trump was the perfect answer.
It is indeed painful to hear so many white Americans say that Trump was elected as a backlash against Obama's election.  How sad and depressing for America, the nation. So in fact, we have not made as great a stride as many of us thought. Almost 400 years after black human beings were brought to America in chains there are still millions who cannot accept, and refuse to treat black people with dignity, equity and respect.  They refuse to accept black people's very humanity.  They refuse to see their own inhumanity; they refuse to see their own bigotry.

As we look at what is good and positive about the accomplishments of blacks in America, even though many live under significant duress and deprivation, we cannot forget (because it is still happening) the many black people who are still being framed, lied upon, imprisoned, executed,  and deprived of liberties for crimes they did not commit.  The lying words of a white person are still accepted more than the truthful words of a black person.  In August 2016,  The Root published a piece called:

Danielle Young started her piece with a picture of the Olympic Athlete Ryan Lochte.  He is the American Olympic swimmer who lied about being attacked in Brazil.  Instead of being humiliated for the disreputable person that he is, he was remade, rebranded and put on Dancing with the Stars, the ABC pop culture program.  When black athletes are accused of doing anything remotely scandalous, they are severely punished.  If it's anything that involved breaking the law they are imprisoned, fined and held up to ridicule.  Quite often they are banned from their sport — unless, of course, they can be made useful to the white establishment.   If they show any kind of independence or take a stand against America's racist system they are severely punished.
Remember the 1968 Olympics Black Power salute. Gold medalist Tommie Smith (center) and bronze medalist John Carlos (right) showing the raised fist on the podium after the 200 m race at the 1968 Summer Olympics; both wear Olympic Project for Human Rights badges.  1968 Olympics Black Power salute – Wikipedia 
While the protest seems relatively tame by today's standards, the actions of Smith and Carlos were met with such outrage that they were suspended from their national team and banned from the Olympic Village, the athletes' home during the games.
A lot of people thought that political statements had no place in the supposedly apolitical Olympic Games. Those that opposed the protest cried out that the actions were militant and disgraced Americans. Supporters, on the other hand, were moved by the duo's actions and praised them for their bravery.  "The protest had lingering effects for both men, the most serious of which were death threats against them and their families."  Financially, they were permanently penalized.

"Smith and Carlos, who both now coach high school track teams, were honored in 1998 to commemorate the 30th anniversary of their protest. The life time punishment meted out to them is a clear statement that blacks are never free.  how dare they protest anything!  Whether it is Martin Luther King, Asa Phillip Randolph, Eartha Kitt, or Muhammad Ali, black Americans are never seen as being totally free in their own country.  Reactions to their protest are always different.
An interesting side note to the protest was that the 200m silver medalist in 1968, Peter Norman of Australia (who is white), participated in the protest that evening by wearing a OPHR badge.  https://en.wikipedia.org/wiki/1968_Olympics_Black_Power_salute
The only time they are 'forgiven' by the oppressive system is when they can be exploited for the benefit of that system.  There are dozens of public examples and thousands  whose perils are not public knowledge.  Those who are smart enough and have the wisdom and integrity not to allow themselves to be used are then abused by the media and deprived of earnings.
The few who were able to rise above the system still paid a severe price: Muhammad Ali and Jackie Robinson immediately come to mind.  However, if we go a little deeper we will find Lena Horne, Eartha Kitt, Sammy Davis, Jr., Paul Robeson, and thousands more.  The popular black performers who died penniless white their white managers got rich and were able to pass on the wealth to their descendants.  This is only one aspect of the egregious suffering many black Americans endure today.
Below is the information provided by Danielle Young, in TheRoot's article.  She enumerates some of the more public cases of  White Lies: A Brief History of White People Lying About Crimes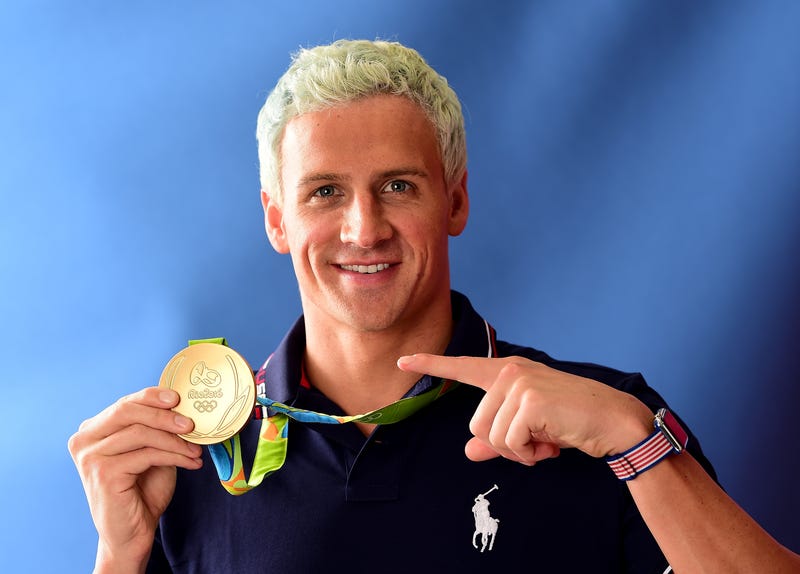 Swimmer Ryan Lochte poses for a photo with his gold medal on the Today-show set on Copacabana Beach in Rio de Janeiro on Aug. 12, 2016.  Harry How/Getty Images
Before there was Olympic thug Ryan Lochte, who lied about being robbed in Rio de Janeiro, white people were notoriously known for either committing crimes and pinning them on fictitious black folks or just blaming them for made-up or heinous crimes committed by someone else.    Racism made it O'K to falsely blame blacks.
 Here's a brief history of black people being blamed for and convicted of crimes they did not commit.
1. The Scottsboro Boys-

In 1931 nine black teenagers were accused of raping two white women in Paint Rock, Ala. In those days, rape of a white woman by a black man was punishable by death 9 times out of 10. Eventually, one of the women admitted that she and her friend had made up the rapes, but that didn't stop one of the grossest and most heinous miscarriages of justice from happening to these men.
Eight of the nine teens were convicted and sentenced to death, but the case was appealed, with charges eventually being dropped for four of the boys. According to reports, In 1936 Haywood Patterson was convicted of rape and sentenced to 75 years in prison. He escaped in 1949 and in 1950 was found in Michigan, but the governor refused to extradite him. In 1951 he was convicted of an assault and sentenced to prison, where he died of cancer in 1952. In 1936 Ozie Powell was involved in an altercation with a guard and shot in the face, suffering permanent brain damage. He pleaded guilty to assault, and the rape charges were dropped. He was paroled in 1946.
In 1937 Charlie Weems was convicted and sentenced to 105 years. He was paroled in 1943 after having been held in prison for a total of 12 years in some of Alabama's worst institutions. In 1937 Andy Wright was convicted and sentenced to 99 years. He was paroled and returned to prison after violating parole. He was paroled in New York in 1950. In 1937 Clarence Norris was convicted of rape and was the only defendant sentenced to death.   Alabama Gov. Bibb Graves commuted his death sentence in 1938 to life. Given parole in 1946, he went into hiding.   In 1976 he was found in Brooklyn, N.Y. Alabama Gov. George Wallace pardoned him that year, declaring him "not guilty." Norris published an autobiography, The Last of the Scottsboro Boys, in 1979. He died of Alzheimer's disease on Jan. 23, 1989.
In 1937 the state of Alabama dropped all charges against Willie Roberson, Olen Montgomery, Eugene Williams and Roy Wright, who had already been in prison for six years. Wright had a career in the U.S. Army and Merchant Marine. In 1959, believing that his wife had been unfaithful during his tour, he shot and killed her and fatally shot himself. In 2013 Alabama issued posthumous pardons for Patterson, Weems and Andy Wright. Was justice served? No! The Scottsboro case is considered a landmark case in ending the systematic exclusion of blacks from juries.
 2)  George Stinney – Executed at age 14 for a crime he did not commit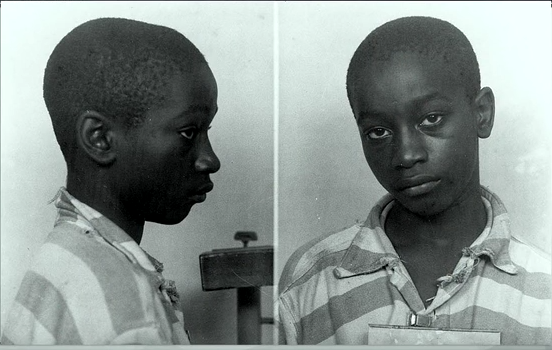 George Stinney was killed by electric chair in 1944 after being accused and convicted of murdering two preteen white girls by an all-white jury in South Carolina. This case was an extremely sad one, since George was 14 years old when executed, making him the youngest person to be executed in the U.S. in the 20th century. There was no evidence linking George to the case, other than a circumstantial detail that he'd spoken with the girls before their murder. Three police officers claimed that George confessed to the murders.  This black child had no value in the eyes of our racist judiciary.
3. Charles Stuart – 1989 – Boston, MA
In 1989 in Boston, Charles Stuart alleged that his wife, Carol DiMaiti, and unborn child were shot and killed by a black man. Stuart told authorities that when he and his wife were coming home from a birthing class at a local hospital in Boston, they lost their way and ended up in a "dangerous part of town" near a black housing project. He said that while they were looking for a way out, they were attacked by a black man who came out of nowhere and fatally shot his pregnant wife and wounded Stuart.  This white man knew that he could frame a non-existent black man and our system of injustice would find black men to arrest, beat, intimidate and punish.
 The police sought out black men whom they then questioned and raided their homes, finally arresting William Bennett. Shortly thereafter, however, Stuart's brother Matthew Stuart confessed to police that Charles Stuart had committed the crime to collect life insurance, and upon being convicted for his wife and unborn child's murder, Charles Stuart committed suicide.
4. The Central Park Five – 1989 New York City, Central Park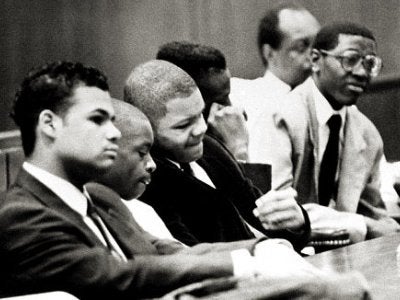 Five black and Hispanic boys ages 14-16 were convicted of the 1989 assault and rape of Trisha Meili, a white woman who was jogging in New York City's Central Park. These boys were convicted because of coerced confessions and faulty scientific evidence. They were convicted of most charges by juries in two separate trials in 1990 and received sentences ranging from five to 15 years. Four of the convictions were appealed; they were affirmed by appellate courts. The defendants—Kharey Wise, Kevin Richardson, Antron McCray, Yusef Salaam and Raymond Santana Jr.—spent between six and 13 years in prison.
The convictions were vacated in 2002 when Matias Reyes, a convicted rapist and murderer serving a life sentence for other crimes, confessed to committing the crime alone and DNA evidence confirmed his involvement in the rape.
5. Susan Smith- 1994, South Carolina. Killed her babies
How could a mother kill her own children and falsely blame a non-existent black man?! Because she knew that in our racist society she would be believed.  Black lives are easily expendable.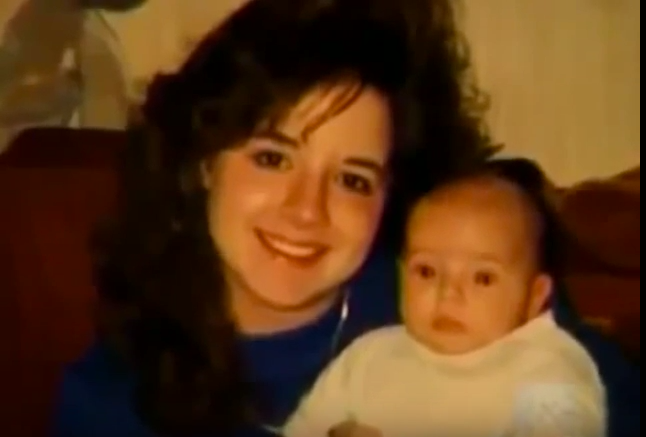 In 1994 Susan Smith claimed that she'd been carjacked in South Carolina by a black man who drove away with her two young sons (ages 3 years old and 14 months). For nine days, she made dramatic pleas on national television for their rescue.
According to reports, the intensive investigation and nationwide search put the fear of God in Smith and she ended up confessing to letting her 1990 Mazda Protegé roll into nearby John D. Long Lake in Union, S.C., drowning her kids inside. She was sentenced to life in prison for their murders. Smith will be eligible for parole on Nov. 4, 2024, after serving a minimum of 30 years.
6. Amanda Knox – 2007
"In 2007 Amanda Knox was accused of murdering her roommate, Meredith Kercher in Perugia, Italy. Naturally, she was like, "Uh uh, not me!" and blamed Diya "Patrick" Lumumba, her boss, and Lumumba was arrested. Lumumba is a Congolese-born resident of Italy who owned Le Chic, a bar in Perugia where Knox worked part time. Didn't Knox know she wasn't supposed to bite the hand that fed her? I guess it was easy to blame her boss because … melanin.
Knox told Italian police in a written statement that she saw Lumumba enter Kercher's room on the evening of Nov. 1, 2007. She later admitted that this version of events was made up, but she implied that it was made up because the police forced her to say it. Girl, bye. Lumumba spent two weeks in an Italian jail before Knox's story came tumbling down because Lumumba had an alibi.
 Here's the thing—Lumumba wasn't the only black person blamed for this heinous crime. Rudy Guede, a black man convicted in 2008,
is serving a 16-year sentence
for Kercher's death. Knox and then-boyfriend Rafaelle Sollecito were put on trial four times for the murder, serving four years in prison through convictions and appeals until they were
exonerated March of 2015
. You know who wasn't? Guede. Guede, who maintains his innocence, was convicted after his DNA was found on Kercher's body and his footprints were seen in her blood."
7. Bethanny Storro – 2010
In 2010 Bethanny Storro claimed that she was attacked outside a Vancouver, Wash., coffee shop by a black woman who approached her and asked her whether she wanted something to drink. She claimed the woman said, "Hey, pretty girl," and then threw a cup of acid in her face, disfiguring her. Police went on to investigate and started to think that Storro wasn't telling the truth. And she wasn't.
After Storro held a news conference shortly after surgery, with her head wrapped in gauze, she was booked as a guest on The Oprah Winfrey Show, but she canceled the appearance after Oprah's staff did some digging and things weren't adding up.
 In 2013, in an
exclusive interview with ABC News
, Storro discussed how she used the acid on herself in a failed suicide attempt because of a then-undiagnosed mental illness called body dysmorphic disorder. The illness causes an obsession with minor or imagined physical flaws. She admitted that when she was a national story, she felt that she "mattered." She said, "In that moment I felt like I was cared for and I mattered." She also claimed that she didn't mean to blame it on anyone else. Right.
"There are certainly other cases similar to those described here, but these are some of the more notorious ones. Why do we live in a world where this is still OK?"
In fact, these are only a sampling.  If we take into account the murders of black people carried out by police accross this nation, there are thousands.  We hear about a few of them, but we do not hear about most of them at all.  Before the age of social media we heard virtually nothing.
We all (should) know the story of Emmett Till, the black 14-year-old Chicago boy who was murdered in August 1955 by two white men, J.W. Milam and his half-brother Roy Bryant.
As the story goes, Emmett, who was visiting family in Mississippi, had gone into a store to buy some bubble gum. As he was leaving, he is said to have whistled at Bryant's 21-year-old wife, Carolyn.
In the Deep South, where racism was still violent as well as pervasive, Bryant and Milam took it upon themselves to abduct the young teen. They later admitted to killing Emmett, beating and mutilating him, shooting him to death and then sinking him in a local river. Emmett's mother insisted on having an open-casket funeral for her disfigured son so that the world could witness the brutality of white supremacy.
 His murder was a catalyst for the American civil rights movement.
Milam and Bryant were arrested for Emmett's death, but the Deep South is as the Deep South does, and an all-white, all-male jury found them not guilty in a little over an hour. As the men stood trial, according to Vanity Fair, Carolyn Bryant testified that Emmett "had grabbed her and verbally threatened her. She said that while she was unable to utter the 'unprintable' word he had used … 'he said [he had]'—done something – 'with white women before.'"
The jury did not hear Carolyn Bryant's testimony because the judge ruled that it was not relevant to Emmett's murder, but the result was the same, and her testimony was still heard by court spectators and put on the record because the defense wanted to use it as evidence in case of an appeal if the defendants happened to be convicted.
 However, now, Vanity Fair reports, Carolyn Bryant Donham (who has since been divorced and remarried twice more) has broken her decades-long silence.
In a new book The Blood of Emmett Till, author Timothy Tyson, a Duke University senior research scholar, reveals that in 2007 Donham, at the age of 72, admitted that she had made up the most damning part of her testimony.
 "That part's not true," Donham reportedly told Tyson about her claim that Emmett made verbal and physical advances toward her.
Conveniently, according to Vanity Fair, she said that she couldn't remember the rest of what happened that August evening in the store. The news site noted that the now-82-year-old's whereabouts have been kept a secret by her family.
Tyson's book is due to be published next week by Simon & Schuster. And, according to Vanity Fair, although several other authors have written about Emmett's story, no one, with the exception of Tyson, has ever had the opportunity to interview Donham. Both her ex-husband and brother-in-law are now dead.  http://www.theroot.com/woman-who-caused-emmett-tills-death-admits-to-lying-1791698393
Finding her conscience is decades too late. Whites are still lying and causing the death of blacks, men in particular. There are those who made up fictitious black men. Yet, the white police always found black men to beat up and lock up for the crimes committed by whites, or even for falsely reported crimes such as in 2016 in So. Carolina:
"Once again in SC, a non-existent black man is blamed for a crime."
Racism is so much a part of the DNA of the American culture that even kids in elementary school know that they can blame anything on black men and the police will believe them.
Two white elementary kids wanted to skip school
So they said they were abducted, and blamed a black man
Sadly, it was again a story made up to try to fool the cops
FORT MILL, SC
Once again in South Carolina, a black man who does not exist was accused of a crime.
This time, it was two white elementary school kids who wanted to skip school in Fort Mill, where I so proudly live with my three black children who are so much greater than me because of who they are.
These two kids used what they were taught or overheard – they blamed a black man for trying to abduct them. The (Rock Hill) Herald did not report the race of the suspect, because the newspaper generally does not identify suspects by race unless it is part of a more detailed description. The York County Sheriff's Office issued a statement in which the kids identified their alleged would-be kidnapper as a black male.
Every parent of every race shivered with fear. No parent of any color wanted anything but for this guy to be caught, convicted, and put under the jail.   Sadly, it was again a story made up to try and fool the cops. Who did these two little white kids blame? The most vilified, beaten down, group in America.  Black men.
No other group in America has to prove from birth that they are not criminals. Or dangerous. Or threats.
So these two kids – like so many others before them – told the cops a big black man armed and dangerous with a pocket tool that had a screwdriver sticking out of it like a spear was after them and committed a heinous crime.
There was no crime. No black attacker.
Susan Smith blamed a black man for kidnapping her kids in Union two decades ago. She cried on TV just like these kids. Susan Smith, white, killed her kids. She drowned them.
Yet her story of a black attacker was news all over the world until she finally confessed that she made it up.
Somebody taught her to blame blacks.
In 2001, on a cold November night in Chester, Joe and Joy Pittman were shot-gunned to death in their own home, then their house was burned down. Their 12-year-old grandson, Christopher Pittman, claimed he escaped from a black attacker.
"Christopher Pittman had killed his grandparents and when caught by the cops, he did what so many white people do to try to get away – he blamed a black man who did not exist.
Somebody taught him to blame blacks.
"In 2009, former York Mayor Melvin Roberts was bound and strangled outside his own home. This is a man who spent his life defending black people, right up until the day he died. In his final case, he successfully defended a black man accused of murder.
"Roberts' girlfriend, Julia Phillips, claimed she was tied up and abducted and kidnapped during the same assault that killed Roberts. She blamed a black man, describing him to police as big and black.
Phillips was then arrested and convicted of murder in Roberts' death. There was not then, nor has ever been found, any evidence of any black man.
"Now, in Fort Mill, students are asking their parents why their classmates would make up a story about a black attacker.
Every one of us will have to tell these children of all races that we do not know why children so young would blame a black man who does not exist for a crime that did not happen.
They will ask this in a state that needed the shooting deaths of nine black people in Charleston last summer – allegedly at the hands of a racist white attacker who claimed blacks were taking over everything – to finally remove from the Statehouse grounds that awful Confederate flag that is a symbol of racial hatred.
Our children will want answers as to why so many white people blame black people.
And the answer will hurt. It will break our hearts.
The answer will be that in South Carolina, to try to get out of something, people blame the race that endured slavery, segregation, Jim Crow, racial hatred, inequality, racial profiling, and many times, murder.
Because of the color of the skin they were born with.
Read more here: http://www.charlotteobserver.com/news/state/south-carolina/article73719292.html#storylink=cpy
George Zimmerman, killed Trayvon Martin in cold blood and claimed Trayvon attacked him.
Numerous white police officers murdered black men, claiming they felt threatened.  They never have to prove the threat; white voices always have impunity and are often believed.
Of course, there are the historic heinous miscarriages of justice and lies starting with: Lynchings, beatings, rapes of black women and girls even by those in high political offices.  It goes back to Jefferson and we have come full circle in 2016.   Soon there will be the installation of  a white supremacist as attorney general.  The leader of the Alt-Right is now in the West Wing of the White House as a security advisor to the president.  Many people seem more concerned about the appointment of Jeff Sessions as attorney general. Here are some of the written reactions to his appointment: 
2)  Who is Jeff Sessions? Learn much more about him by reading below. 
Sessions — the first senator to jump on board the Trump Train — has also spent more than two decades in Congress blocking immigration reform, trying to roll back marriage equality, holding up the confirmation of the Supreme Court's first Latina Justice, repeatedly voting to gut funding for food stamps, and sponsoring bills to give the government more surveillance power: https://thinkprogress.org/who-is-jeff-sessions-
3)  "Career Racist Jeff Sessions Is Donald Trump's Pick For Attorney General     If anyone had doubts that Trump's presidency would return white supremacy to power, Friday's announcement that the president-elect has tapped Alabama Sen. Jefferson Beauregard Sessions III (named after a Confederate general) to head the Department of Justice should settle the question.  There is no other way to describe Jeff Sessions but as a career racist.   He accused the NAACP and ACLU of  "trying to force civil rights down the throats of people." https://theintercept.com/2016/11/18/career-racist-jeff-sessions-is-donald-trumps-pick-for-attorney-general/
4)   "What Jeff Sessions's Role in Prosecuting the Klan Reveals About His Civil-Rights Record."    It's odd that after years as attorney general in the state, he can point to only one significant case where he pursued justice on behalf of a black victim.  What was the calculus that went into that case?
"Defenders of Trump's choice for attorney general have cited an Alabama lynching case as evidence of his commitment to racial equality. The real story is more complicated.  In seeking to defend Sessions from charges of racism, Sessions's allies, and even Sessions himself, seem to have embellished key details, and to have inflated his actual role in the case, presenting him not merely as a cooperative U.S. attorney who facilitated the prosecution of the two Klansmen, but the driving force behind the prosecution itself. The details of the case don't support that claim."   https://www.theatlantic.com/politics/archive/2017/01/sessions-kkk-case/512600/
So yes, we had President Obama for eight years, and we made progress.  Now we have a president who is determined (with the aid of the Republicans) and his white nationalist and Alt-Right appointments to undo much of what president Obama had done in terms of taking America away from the dark days of racist oppression right back into Jim Crow.  It is egregious and it is frightening. It seems that the only way to hold on to the gains America has made is to RESIST these racist actions; stick together and work for a better and a more enlightened and unified America.   We must challenge racism wherever we encounter it.  This will not be easy, but there seems to be no other choice.  Thankfully, there are many white Americans who are neither racist, nor will they collude with the racists and the white nationalists in our midst.
OneWorld Progressive Institute, Inc is a 501(C)3, 100 percent volunteer organization serving Greater New Haven and the broader CT community since 1996.  We produce three categories of television programs: health literacy, education and civic engagement. We also engage the community, and particularly students, in critical-thinking forums, an oratory competition and radio discussions. What we do depends largely on what we can financially afford to do at any given time and on an ongoing basis.  We invite and appreciate technical and financial support.
We at OneWorld invite you to visit our YouTube channel at: https://goo.gl/q3YhD6   Face Book is here: http://goo.gl/8v19VB  If you like what you see, please "LIKE" our FB page and please SHARE us with others.  We are all about good information and building a POSITIVE community.  We welcome financial and technical support. Write to us at: OneWorld, Inc. P.O. Box 8662, New Haven, CT 06531