These facilitated discussions about Race In America need to be held in every state, in every region, and in all major towns and cities. A major question is – will there be meaningful numbers of participants from all ethnic/racial groups?  In many areas there will be; and in many areas the reaction to this suggestion will be the equivalent of World War 3.  The fact is — as a country — we could and would derive real benefits. There are enough committed people in this country to make this happen in many geographic areas.  Of course, it will work best if there is positive media coverage.
Most white Americans do not want to talk about race.  Many black Americans are tired of dealing with race; they do not see where talking about it makes any real difference.  Many black and brown people have experienced the sting of racism; some continue to experience it daily. Some of our young people are aware of the psychological damage that centuries of racism has done to their psyche.  In a teen forum done by OneWorld Progressive Institute in 2014, some teens talked about the pain of colorism brought about by racism, and how proximity to whiteness affects the self esteem of children even within families.  The costs of inequality in America manifest on every level of our society: from the nuclear family to the corporate boardroom and  legislative offices.
Here the author of the book titled:
The Paper Bag Principle
: class, colorism & rumor and the case of Black Washington, D.C: Audrey Elisa Kerr, PhD
is interviewed by a OneWorld board member, Enola Aird, about the effects of the Paper Bag Principle on the black community.  The interview is in depth and offers viewers deep layers of background information.  Dr. Kerr and Ms. Aird are very forthcoming about the significant psychological issues  involved in the effects of the Paper Bag Principle.  The discussion with the students (linked above) highlights very vividly some of those effects.  Listen carefully to what the students have to say and who is saying what.  The costs of inequality, and the costs of racism and colorism in American society have been high indeed. Unfortunately, as a society,  we have not been very willing to acknowledge these costs and we continue to incur them. Such recognition would be one benefit of national discussions.
Those costs are also reflected in how some black people comport themselves in dealing with police, with white people in general, and with white people in positions of authority and power.   The manner in which most black people are perceived– and black men in particular specifically by police, teachers, and by many people in power– is a direct result of inculcated racism.

For decades black people have been killed by police and by racists; the only difference now is that– because of technology– we are hearing about many (not all) of these callous, racially motivated killings.  Young black men have been the most common targets, but there have also been many young black women who have been murdered by police and by racists. Quite often, the regular media did not include such deaths in their news casts. Prior to the election of President Obama, regular black people were (quite often) not given equal status as human beings by many segments of our regular media.  As shocking as this might seem, it is a fact.  Browse back 20 years at some news reports about the deaths of some black people.  How many of these people had you heard of? The pictures below do not include those murdered/killed since Dec. 2014, nor those killed before 1999.  It does not include a picture of 10 year-old Clifford Glover, shot in the back by officer Shea on April 28, 1973.  Glover and his father were running away from the officer.  Of course, as always, Shea claimed the 10-year-old had a gun; that was a bold-face lie. Other officers tried to find a gun they could attribute to the little boy.  Thankfully, in this case, the community stood up, so the media was forced to cover it.

"A Police Shot to a Boy's Back in Queens, Echoing Since 1973." 
(NY Times, April 4, 2015)
"It was 1973, long before anyone could imagine hashtag declarations of solidarity and protest, the kind of message to the world that today might read, #IamCliffordGloverInTheFourthGrade.
"No one could pull out a phone to make a video of Clifford Glover, a 10-year-old running from a plainclothes police officer with a gun who had just jumped out of a white Buick Skylark in Jamaica, Queens, on a spring morning in 1973.
"I am sure a camera would have helped, but the ballistics were clear," Albert Gaudelli, a former Queens prosecutor, said this week. "The bullet entered his lower back and came out at the top of his chest. He was shot T-square in the back, with his body leaning forward. He was running away."  Please read about Clifford Glover's murder here.  The officer was not indicted, but was fired. http://www.nytimes.com/2015/04/17/nyregion/fired-at-queens-boy-fatal-1973-police-shot-still-reverberates.html
The New York Times has been one mainstream media that has consistently written about murders of black by police.  It should also be noted that the NY Times has employed diverse reporters and writers.  In 1996 Bob Herbert wrote a scathing piece about the "Sickness In the N.Y.P.D." By BOB HERBERT, Published: October 11, 1996.  In this piece Herbert delineated the killings of several African Americans and Hispanics by New York police officers.  In most cases, the officers walked free. http://www.nytimes.com/1996/10/11/opinion/sickness-in-the-nypd.html
Have you heard of the death of  Rumain Brisbon, 34, Phoenix, Ariz.—Dec. 2, 2014.  This egregious case certainly has not made the news on our side of the USA.  Why is that?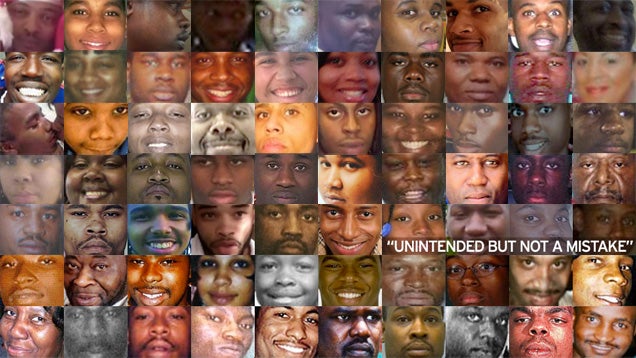 http://gawker.com/unarmed-people-of-color-killed-by-police-1999-2014-1666672349
This week (July 20 – 27, 2015) the New York Times has several articles about Race in America.  We link some below and invite you to visit and read them:
Poll Finds Most in U.S. Hold Dim View of Race Relations
Seven years ago, in the gauzy afterglow of a stirring election night in Chicago, commentators dared ask whether the United States had finally begun to heal its divisions over race and atone for the original sin of slavery by electing its first black president. It has not. Not even close.
A New York Times/CBS News poll conducted last week reveals that nearly six in 10 Americans, including heavy majorities of both whites and blacks, think race relations are generally bad, and that nearly four in 10 think the situation is getting worse. By comparison, two-thirds of Americans surveyed shortly after President Obama took office said they believed that race relations were generally good.
By KEVIN SACK and MEGAN THEE-BRENAN 
A Growing Divide on Race: How views on race differ among black and white Americans.