Misty Copeland is now the Principal Ballerina for the American Ballet Theatre) ABT).  In the 75 year history of the ABT it is the first time that a black person has been selected as the principal ballerina. Ms. Copeland is delighted.  She says since she was 13 years old her dream was to be a principal ballerina.   Clearly, she has earned the honor.   On June 30, 2015, the American Ballet Theatre, one of the three top classical ballet companies announced that she was now its Principal Ballerina. The dream has been realized and conferred.   Misty can soar like an eagle; she can perch like a cat;  she floats through the air with grace and beauty.   Whatever she does, she does with grace, elegance, glamour and style.  Learn much more about her at her official site: http://www.mistycopeland.com/home.html  Here CNN makes the official announcement: http://www.cnn.com/2015/06/30/living/feat-misty-copeland-dancer-abt/ 
Misty started dancing late for the ballet culture.  She grew up in less than affluent circumstances; she did not have many ballerinas of colour to inspire her, and by ballerina standards she was not the ideal.  Being 5′ 2″ she had her doubts about her future in classical Ballet.  Most ballerinas are taller, but Misty had passion, commitment, desire and determination.  All these have paid off; she has arrived at the pinacle of the Ballerina World.  As a soloist for the past eight years she has been admired around the world; she has been treated like a rock star (especially when she travels).   Characteristically, here is what she said as a soloist:  "My fears are that it could be another two decades before another black woman is in the position that I hold with an elite ballet company," she wrote in her memoir, "Life in Motion: An Unlikely Ballerina," published in 2014. "That if I don't rise to principal, people will feel I have failed them."  No one can ever feel that now Misty.   You are an inspiration to many little girls and boys of color. For our readers below are various images of Ms. Copeland performing or just being photographed. She certainly is telegenic. Misty Copeland Made the Cover of Time Magazine, April 16, 2015.   She was chosen as one of the magizine's "100 most influential people."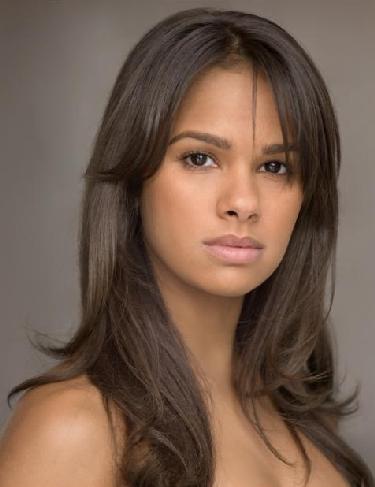 Misty Copeland on June 30, 2015
Misty Copeland (below) as a soloist in "Le Corsaire" with the American Ballet Theatre.
Below are images of Misty Copeland at various stages of her development before and with the American Ballet Theatre. She started dancing at the mature age of 13 for the world of ballerinas.
The epitome of gorgeous, talented, brilliant womanhood.  
 Story by
CBS News,
June 30, 2015, 7:26 PM
​ Misty Copeland, a tour de force, breaks ballet barrier
 NEW YORK – A promotion made public Tuesday has launched Misty Copeland into ballet history. The 32-year-old was named the American Ballet Theater's principal dancer, making her the first African-American female to hold that position in the company's 75-year history.
"I had moments of doubting myself and wanting to quit because I didn't know if there would be a future for an African-American woman to make it to this level," said Copeland Tuesday.
"At the same time it made me so hungry to push through to carry the next generation so it's not me up here and I'm constantly saying that it's everyone that came before me that got me to this position and all the little girls who can see themselves through me it's giving them a brighter future."   "Something happens when you feel that energy and excitement from the audience," Copeland told "60 Minutes." "You jump higher than you ever have and it's just this really magical thing that happens in those moments."
http://www.cbsnews.com/news/misty-copeland-a-tour-de-force-breaks-ballet-barrier/
Misty Copeland Is Officially The First Black Female Principal Dancer In American Ballet Theatre History.
The Huffington Post, 
By Priscilla Frank, June 30, 2015
History was made in the ballet world this week when soloist Misty Copeland was promoted to principal dancer, thereby becoming the first black female principal in the 75-year history of the American Ballet Theatre.
Copeland, now 32 years old, has been dancing with the American Ballet Theatre for over 14 years, nearly eight as a soloist. Most recently, she starred as Odette/Odile in "Swan Lake" at the Met, a role dance critic Alastair Macaulay called "the most epic role in world ballet."
"Two aspects of [Misty's] performance … proved marvelous," Macaulay wrote in his review. "One: that it all happened successfully. Two: the curtain calls."
http://www.huffingtonpost.com/2015/06/30/misty-copeland-principal-dancer_n_7697872.html
OneWorld Progressive Institute, Inc., is a small group of committed volunteers who produce community information and education television programs on health literacy, education and civic engagement.  We also find good information and post informative blogs about issues we believe shine light and are beneficial to many in our communities. 
This blog about Misty Copeland is intended to inspire our young and not so young people who do not believe they can achieve great things.  They certainly can.  Misty Copeland achieved because she had a vision, a desire, the determination and she worked very hard.  Today she has achieved something that has not been done by many in this America.  Congratulations Ms. Copeland; you believed and you achieved.
 Learn more about us at our web site: www.oneworldpi.org/  and visit our Civic & Community Engagement efforts at: http://www.oneworldpi.org/civic_engagement/index.html We are about Community Involvement & Public Good and we work to make Positive contributions to our community.  We also sponor a middle school oratory competition and various education forums for young people.
OneWorld's YouTube is here: http://goo.gl/jkPaiQ And Face Book is here: http://goo.gl/8v19VB
Please share our information with others.  Watch our informative television programs on your public access channels: Frontier (formerly AT&T), Channel 99, drop down; Charter Communications Chan. 21, and Comcast (Xfinity) Channels 10, 15, 18 & 26. In Hamden, New Haven and West Haven find us Mondays at 8pm on Comcast, Xfinity, Channel 26. Please "like" OneWorld on Face Book.